Thankfully Bernard had many more interesting things to say than I had prepared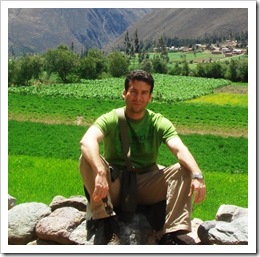 questions to ask… I'll get better as we go I promise!
A few follow-up questions I missed: 1) Why isn't Peru Bernard's favorite soccer team? 2) What kind of art does he like to collect? 3) Just how did he break his arm anyway?
For answers to these questions, you'll have to ask Bernard himself.
Please enjoy our second Iota Alumni Profile.
Bernard Schleien (Pledge – Spring 94)
After graduating with a major in history, he founded Latin America For Less in 2001 and has ever since devoted his professional life to building memories of Peru and Latin America for all. He has learned that there is much more to life than the ever so constant work day, and is one of seven founding members of Peru Futbol – a Peruvian NGO that aims to bring thousands of Peruvian children out of poverty, while instilling values through the teachings of soccer. Bernard has a love for Peru (especially Cuzco), like so many, and finds it extremely gratifying at the end of each day that he is able to sell something that he truly believes in. He has lived in Cuzco for 6 months, and goes there at least 4 times a year. Other interesting factoids about Bernard: Seinfeld fanatic, Cienciano del Cuzco soccer club team rooter, independent rock music, biking, creative writing, cooking and eating out, micro-brewed beer (beer builds better brothers).